How To Start A Career In Acting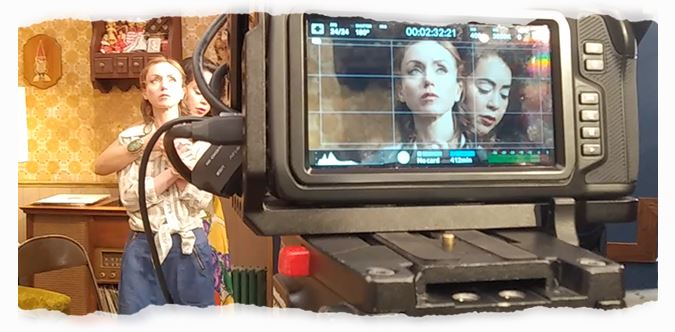 Are you dreaming of becoming the next Hollywood star? Have you always wanted to pursue a career in acting? Well, if you're serious about taking the plunge and making your dreams come true, then this blog post is for you! We'll walk you through how to start a career in acting, from creating a portfolio to networking with other professionals.
You can start for free by joining our free online training course and our full online film course here.
1. Research Acting Techniques
Researching acting techniques is an essential step in starting a career in acting. Utilizing resources such as books and online tutorials is a great way to become familiar with the basics of acting. Actors should also observe professional performances to get an idea of what it takes to be successful in the industry. Watching plays, films, and television shows can help actors understand the nuances of acting and how to apply them in their own performances. Furthermore, actors should also look into various acting methods such as Stanislavski and Meisner to make sure they are aware of different approaches to acting. Taking the time to research these topics can provide actors with the knowledge they need to get started in their careers.
2. Participate in High School Plays and Musicals
Participating in high school plays and musicals can be an effective way to get started on the path to an acting career. High school plays and musicals provide a great opportunity for aspiring actors to gain experience in performing, and to get comfortable with the technical aspects of being on stage. By taking part in these events, students can develop their skills as performers, and start to build a portfolio of work that will help them when auditioning for roles. Additionally, high school plays and musicals also offer students the chance to start building a professional network with their peers and mentors.
3. Take an Acting Class
Taking an acting class is an important step in the process of beginning a career in acting. Acting classes offer opportunities to develop and refine the skills necessary for successful performance. Students can learn about the basics of acting, such as proper vocal projection, blocking, and introducing emotion into a role. Additionally, they can gain valuable experience through improvisation exercises and scene work. Additionally, acting classes may provide invaluable feedback and critiques from experienced instructors, which can help actors improve their performance. By taking an acting class, aspiring actors can not only learn the technical aspects of performing but also gain self-confidence as they practice and perform with other classmates.
4. Observe Professional Performers
Observing professional performers is a great way to learn the techniques of acting. It can help aspiring actors to gain insight into the techniques used by experienced professionals and to identify their own strengths and weaknesses. Professional performances can provide invaluable experience in learning how to act, and can inspire actors to continue developing their craft. Watching professionals in action can also provide valuable tips for dealing with the pressures of auditions and building a professional network. In order to get the most out of observing professional performers, it is important to take notes and ask questions whenever possible.
5. Attend Acting Auditions
Attending auditions is an important step in any actor's journey. It's a great way to gain experience, build up your network, and get noticed by casting directors. Before attending an audition, actors should always research the role they are auditioning for and practice their lines. During the audition, actors should be confident and professional while also displaying their unique personality. Actors should also make sure to follow up after the audition by expressing gratitude for the opportunity and sending a thank you note. Attending auditions is a great way to put yourself out there and increase your chances of getting cast in a role.
6. Build a Professional Network
Building a professional network is essential for any aspiring actor. Developing mutually beneficial relationships with industry professionals can open up new opportunities and help you gain valuable insight into the industry. When building your network, focus on making genuine connections with people who have the same values and interests as you. Make sure to stay in touch with those you meet and reach out to them regularly, as these relationships can take time to nurture. Additionally, don't be afraid to attend industry events or conferences, as they are excellent opportunities to meet new people in the industry and build relationships. Remember that networking is a two-way street and seek out ways to offer value to those you meet.
7. Create an Acting Portfolio
Creating a professional acting portfolio is an essential part of launching a successful acting career. A portfolio allows casting directors to get a quick snapshot of your face and skills, and can help you stand out from the competition. To create an acting portfolio, start by writing your acting resume, which should give your height, weight, age, and hair color. You should also include details such as any acting experience or training you have had. Then, obtain a professional headshot that accurately reflects who you are. It is also important to research casting calls in order to find specific roles you are interested in. Once you have an idea of what you want to audition for, create a demo reel or video that showcases your talent and skill set. Finally, promote yourself on social media platforms such as Instagram or Twitter to get your name out there and make connections in the industry.
8. Work on Your Craft
Working on your craft is essential in developing the skills necessary to become a successful actor. Taking classes, participating in productions, and studying the work of established performers are great ways to hone your craft and increase your confidence as an actor. It is important to keep learning and pushing yourself with new techniques and challenges. Attending improv classes, studying different acting styles, or taking part in workshops can help you become more comfortable with improvisation and different types of performances. With dedication, practice, and a positive attitude, you can develop the skills necessary to succeed in the acting industry.
9. Practice Self-Promotion
The importance of self-promotion in acting cannot be overstated. Knowing how to market yourself and your skills is essential for a successful career in the industry. Actors should take the time to create a portfolio of their work and make sure it's updated regularly with new projects and accomplishments. It's also important to ensure that your portfolio is professional, accessible, and easy to understand. Networking is key, so actors should find ways to connect with other professionals in the field, as well as build relationships with casting directors, agents, and other relevant contacts. Finally, actors should take advantage of social media to showcase their work and share news about upcoming projects—all of which can help them become more visible in their industry.
10. Maintain a Positive Attitude
Maintaining a positive attitude is essential when embarking on a career in acting. It is important to remember that there are many paths to success, and that failure is part of the process. By keeping things in perspective and approaching each situation with an open mind, actors can stay motivated and focused on their goals. Additionally, positive self-talk and affirmations can help actors stay focused on the positive aspects of their craft. Finally, surrounding yourself with supportive, like-minded people can help create an atmosphere of encouragement and positivity.
Conclusion
Starting a career in acting is a huge undertaking, but it can be incredibly rewarding. It takes a lot of dedication, hard work and networking to make it in this industry. It's important to research acting techniques, take classes, observe professional performances, attend auditions and build a professional network. Additionally, creating a portfolio, working on your craft, practicing self-promotion and maintaining a positive attitude are all essential pieces of the puzzle. With the right mindset and preparation, you can successfully start your career in acting and make your mark on the industry.
You can start for free by joining our free online training course and our full online film course here.